The Expert Guide
This change tool incorporates an online and real time dashboard with integrated and prefigured online surveys. It is an easy to use application in any business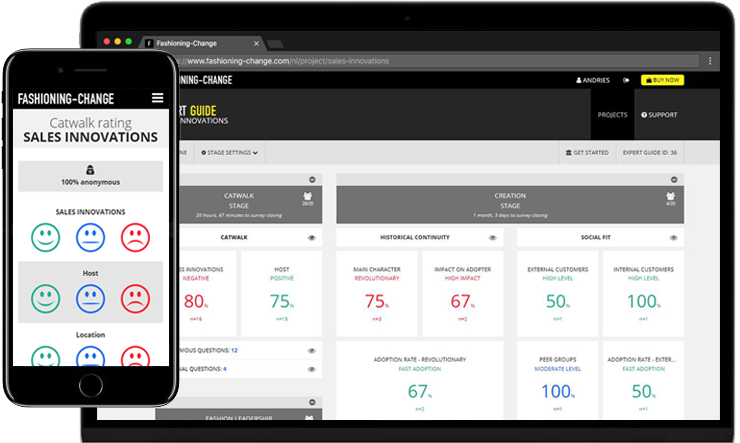 See how the Expert Guide will make your life easier...
Monitor your change idea and be in charge
Simple and practically applicable structure and evidence-based insights of the various steps of a change process

Helps you to get started
Helps you to execute the different stages of the Timeline
The feedback information presented in the dashboard helps you with detailed insights about the evolution of the change process
Predictability of success or failure
You will get a founded impression at a glance whether your idea will be successful or whether you need to go back to the drawing board?
What do people really think of your new idea?
Valuable Off stage opinions become On stage
Because of 100% Anonymity: the respondent is not identifiable, reachable, or trackable
No Censorship
Expert View as a professional guide
Operates as a hidden back support during challenging periods of difficulty
Personal Mirror as a trigger
Personal expert feedback on survey's will activate spontaneously social interaction among respondents
Flexible toolkit
Customer needs can be fulfilled easily because a situational approach is supported
Stages can be used in free order
Quick View life-data
Detailed impressions in a glance
The change owner underpins her/his first feelings with well-constructed data- and comments overviews
See how the Expert Guide will make your life easier...
Operational applicable scientific knowledge becomes payable
The community who payed for science will be rewarded for their contribution in a pragmatic way for a democratic price
You pay peanuts and a get a state of the art change tool. Scientifically proven, easy to use and pragmatic
Multilingual
The Expert Guide and the Expert Views are language-agnostic. Whenever employees need to give input or feedback they can choose the language they prefer most
For instance in all the surveys
State of the art dashboard
You will see immediately where the painful trigger points or the positive leverages are located
Predefined Scientific Survey's
No worries about formulation and scientific rigour
Supplementary Questions available for personal use
Mobile friendly
Wherever you go, you will be able to continuously monitor the developments of your idea
Integrated e-mail service
Administrative tasks are taken out of your hands by means of automatically created reminder e-mails to respondents who have not yet responded to the invitation to fill in the survey
Online and real time
At any time and any place the expert guide will provide you with the latest actual change information with no delays
Easy to delegate
Project assistants and team members can be invited easily to participate.
| Batches | Max. respondents admitted | Price excl. VAT |
| --- | --- | --- |
| 1 | 299 | € 299,- |
| 2 | 598 | € 598,- |
| 3 | 897 | € 897,- |
| 4 | 1196 | € 1.196,- |
| 5 | 1495 | € 1.495,- |
| ... | ... | ... |
Batch Unit price of € 299 (Excl. VAT) is up to a batch of 299 respondents
You will be able to upload up to a maximum of 299 e-mail addresses.
Example: If the total number of respondents or employees will be 400, select 2 batches. In this case you will be able to upload up to a maximum of 598 e-mail addresses.
Because of the personal input needed the different stages can be used once for a particular idea, concept or change project.
OUR TIMELINE
The change processes are simple and explicit with deep respect to human adoption rates and human translation processes.
All parties are aware in advance of what will happen.


Hover / Touch the Timeline for more information
WEEK 1:
Catwalk Show
Catwalk Rating
WEEK 3 - 16:
WEEK 3
Mirror
Mirror Show
Mirror Rating
WEEK 4 - 8
Stage 1: Potential Fashion
Stage 1 Survey W7
Fashion Leaders
Meeting W8
WEEK 9 - 12
Stage 2: Fashion
Stage 2 Survey W11
Fashion Leaders
Meeting W12
WEEK 13 - 16
Stage 3: Fashion Trend
Stage 3 Survey W15
Fashion Leaders
Meeting W16
WEEK 16 - 17:
Laggard Stage Survey W16
Laggard Show W17